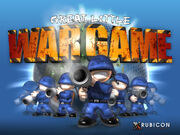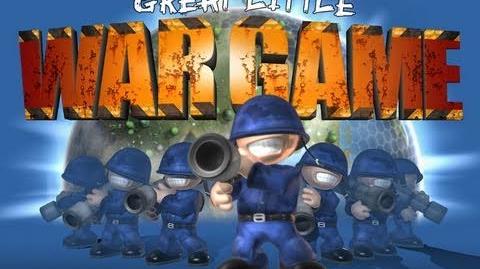 Great Little War Game is a casual modern military turn-based strategy game by Rubicon Development. It has a Pass and Play mode to play with your friends, a thirty-five mission single-player Campaign mode, and a Skirmish mode with twenty Maps. The sequel of GLWG is Great Big War Game, which is the prequel of Great Little War Game 2.
In GLWG, you control small soldiers called Units in a turn-based strategy game. The objective is to win the game by capturing the opponent's Headquarters,killing the enemy General,and more, There are twenty different types of Units (6 infantry, 9 land vehicles, 3 air vehicles, and 2 marine vehicles), and twenty Maps to choose from. There is also a 30 Mission single-player Campaign mode.
Reception
Edit
Great Little War Game has been given positive reviews, and reviewers compare it to games like Advance Wars.
The game also has been titled New and Noteworthy by Apple.
GLWG suffers from a mis-colored texture bug that crashes the game after it loads the bugged texture in a new match.
Visit Great Little War Game Gallery for pictures.
Visit Great Little War Game Videos for videos of Great Little War Game.
GLWG Navgation [Edit]
| Navgation | GLWG Mission Navgation [edit] |
| --- | --- |
| Main Campaign: | The First Mission, Meat Grinder 101, Ambush!, Black Gold, Offensive, F-Day, Two Fronts, Mission 8, Mission 9, Mission 10, Mission 11, Mission 12, Mission 13, Mission 14, Mission 15, Hardcore Beach, Mission 17, Mission 18, Ice Fort, 20 |
| Call of Booty: | Rock or Roll, Bold Escape, 3 4 5 6 7 8 9 10 |
| All Out War: | Meat Grinder 102, Mission 2, Mission 3, Mission 4, Mission 5, Mission 6, Super Safe Harbour 8 9 10 |
| Holiday from Hell: | Skull Island 2 3 4 5 6 7 8 9 10 |
GLWG Map Navgation
Alert!, Anvil, Beach Fight, Bling, Bravery, Copper Soldiers, Frosty, Fun Canyon, Golden Fields, Hex, Hosplitality, Madness, Neighbours, Oasis, Snap!, Spearhead, Tea Time, The Cove, Train to Hell, Vendetta, King of the Hill, Iron Man, Touch Arcade, Bloody Valentine, Dog House, Hard Love, On The Beach, Wish You Were Dead
Unit Navigation
Infantry units:
Bazooka, Commando, Engineer*, General*, Grenadier, Grunt, Medic** (Map Pack Two), Scout**, Sniper, Technician* **
Vehicle units:
Anti-Air Tank, Artillery, Battle Tank, Behemoth, Flame Tank** (Map Pack One), Jeep*, MLRS, Recon Tank, Supply Truck, Tank Killer**
Sea units:
Aegis, Cruiser, Destroyer, Ferry*, Fleet Oiler**, Scout Boat* **
Air units:
Bomber, Chopper**, Fighter, Sky Hook
Technician units* **:
Air Turret, Land Mine, Pounder, Sentry Gun
*Units that have no upgrade series   **GBWG only
Template:GLWGBuildings
| Navgation | GLWG Walkthrough [edit] |
| --- | --- |
| Main Campaign: | The First Mission, Meat Grinder 101, Ambush!, Black Gold, Offensive, Mission 6, Mission 7, Mission 8, Mission 9, Mission 10, Mission 11, Mission 12, Mission 13, Mission 14, Mission 15, Hardcore Beach, Mission 17, Mission 18, Ice Fort, 20 |
| Call of Booty: | Rock or Roll, Bold Escape 3 4 5 6 7 8 9 10 |
| All Out War: | Meat Grinder 102, Mission 2, Mission 3, Mission 4, Mission 5, Mission 6, Super Safe Harbour 8 9 10 |
| Holiday from Hell: | Skull Island 2 3 4 5 6 7 8 9 10 |
Edit this template Games by Rubicon Development
Rate this article
Edit