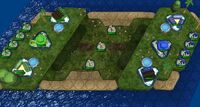 Beach Fight is a map in GBWG. There are Beaches on the top and bottom of the map.
Structure
Edit
Precaptured
Edit
There are a Barracks, a Factory, and four Oil Derricks already captured on each player's side.
Uncaptured
Edit
There are three Oil Derricks in the center of the map.
| Map Navgation | [Edit the template] |
| --- | --- |
| GBWG Maps: | Beggar's Jungle, Beach Fight, Betrayal 2, Bravery, Chopper 2, Close Quarters, Dodgeball, MP Airwar #1 MP Airwar #2, Hospitality 2, Iceberg, King of the Hill 2, Red Waves, Ridge Rider, Rocky Roads, Scrap, Sewer, Trenches, Watery Neighbors 2 |
| Map Pack One Maps: | Battlefield, Blood Lake, Copper Soldiers, Dog House 2, MP Seawar #1, Freezer, Fun Canyon, Heat, Howdown, Ich Will Sonne, Mega Mesa, Mercy Neighbours On The Beach Red Canyon Snap! Sunny Vale Swamp Thing The Cove The Wall Vendetta Winter Wonderland 2 Wish You Were Dead 2 |
| Map Pack Two Maps: | Anvil, Bloody Valentine, Devil Island 2 MP Seawar #2 Flight Controll Frosty Gold Digging War Golden Fields Hex Hot Coffee Madness 2 Merry Go Round 2 Oasis Pirate Bay Roll With It Snowflake 2 Temple of Spoons The Thing Tic Tac Boom Typically Tropical Vulnerablility Wheel Of Fortune 2 Yellow Snow |
| War Chest Maps: | Badger Hole Blood Bowl Cat and Mouse Critter Friendly Fire 2 Hard Love Hot Tub Iron Man 2 Mein Land Pillow Fight Spearhead Tea Time The Strip Trone of Skulls Train to Hell 2 |
| Out of Date Maps: | Betrayal, Old Chopper, Devil Island, Dog House, Friendly Fire, Hospitality, Iron Man, King of the Hill, Madness, Merry Go Round, Snowflake, Train to Hell, Watery Neighbors, Wish You Were Dead, Wheel Of Fortune, Winter Wonderland |